WHAT KIND OF KOI IS THAT?
I want to talk about the different colorations in koi, namely the basic varieties that many of us may want to add to the pond this year, if we don't already have one.
First is the very special Tancho. This is the all white fish with the red circle on its head. The red circle is said to signify the rising sun of Japan so is a sacred symbol of their country.
The fish should have a very clear and deep white color with no pink or yellow cast to it and the red circle should be as close to centered as possible. Now, this fish will still be a Tancho if you add black markings, but it will become a Tancho Bekko or Tancho Sanke (which is more correct).
I could even be a Tancho Showa if the black color extends down to the nose area. But the round red "sun" should remain circular and centered on its head. It will not be eliminated from competition if it is sort of square, but round is better.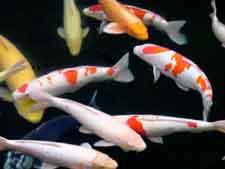 The next type is the Kohaku, the standard for all other markings in koi. It is a basic red and white koi and the markings can be in any fashion as long as there is only red and white. The best fish will have clear, clean white and deep red with crisp markings between the two colors. This is probably the most favored koi with hobbyists and breeders alike.
Their colors are easily seen and appreciated in a pond and are the basis for many other color types.
Next is Sanke, which is simply a Kohaku with black markings on its back or sides. It cannot have black markings on its head however or it becomes, then, a Showa. Both are the basic Kohaku with black markings added.

Now, one more lesson and we are through: Ogon. The word Ogon signifies single-colored fish. So, if you have an all-yellow or all-white fish, you have an Ogon. Sure, there will be another name before –Ogon to signify what type Ogon (i.e.- yellow or white) but it will be Ogon, nonetheless. So if you have an all white Ogon, you probably have a Platinum Ogon. And if you have a yellow Ogon, it is a Yamabuki Ogon.